For more than 10 years, FIG staff members have participated in a Secret Santa exchange where staff members draw names and purchase toys based on the personality of the staff member's name that they drew. On the day of the event, each staff member "presents" their gift explaining the meaning behind the gift and revealing in whose name the gift was bought.
Some stories are sweet and sentimental, and others show a more light-hearted, fun-loving side of the company's staff members. The event is one of the company's most special and well-attended events. This year in 2017, close to 200 toys were collected!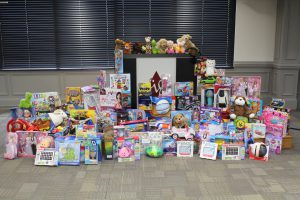 Since 2010, Kid's Path – Hospice and Palliative Care, Charlotte Region has been the primary recipient of the collected gifts. This organization works directly with children who have terminal illnesses or other serious illnesses or conditions to improve their quality of life.   
This year, around 75 gifts supported 18 children in their care as well as those children's siblings. The remaining gifts were donated to Levine Children's Hospital.
We're proud to have supported this organization through holiday toy donations since 2012.
---