Updated February 28, 2019 at 3:22 PM
What are your clients saying about your performance?
What are they really wanting from you as their advisor?
Let's face it; dealing with people's hard-earned money involves a lot of work and responsibility. As a financial advisor, you must protect the best interest of your clients, every time. As well-intentioned as you may be, this "pressure" puts you under the spotlight with your clients.
They want to know that you're the best person to handle their money, and they expect a certain level of satisfaction with your overall performance as a financial advisor. Which begs the question… 
What Do Clients Really Want from a Financial Advisor?
Turns out, they want a lot—but that's not a bad thing. The deliverables needed to be an outstanding financial advisor aren't impossible, and if you can deliver on your client's needs and wants, you'll be a rockstar in their eyes.
Let's break down what people look for in their financial advisor.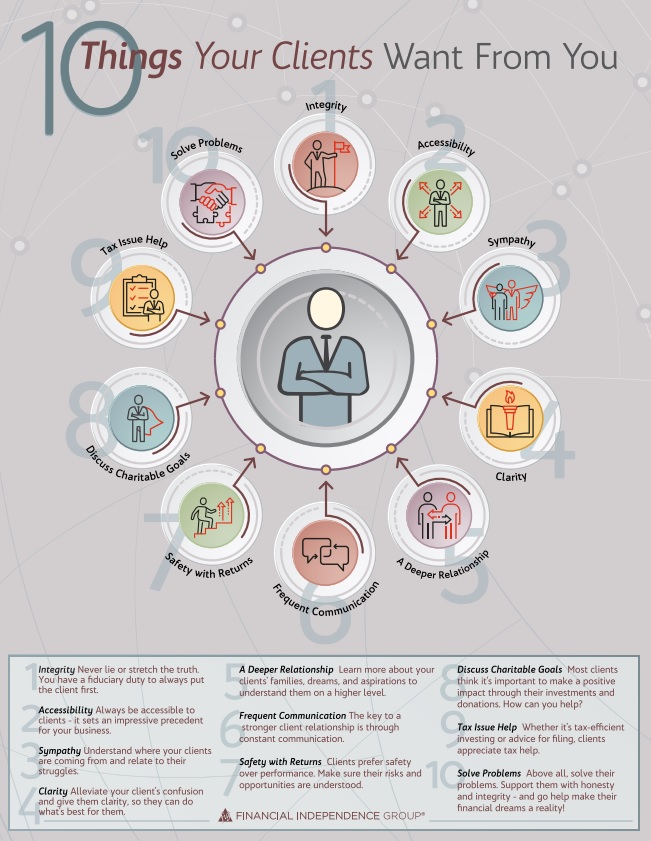 1. Integrity
This goes without saying, but an advisor should never lie (even by omission) or stretch truths for any reason. Stick to your fiduciary duty, and always put the client's needs ahead of your wants. Plain and simple.
2. Accessibility and Punctuality
Are you available to your clients when they need you most? Obviously, there are exceptions for being out of the office, in a meeting, or on a lunch break. That doesn't mean you should wait hours or days to reach back out, though. Call or email them back as soon as possible to portray your commitment to being open and available; it sets an impressive precedent for your business.
3. Sympathy
How much do you care about your client's pain points? Do you understand where they're coming from, can you relate to their struggles?
Being able to appreciate and feel for your clients goes a long way in letting them know you truly care about their livelihood, wealth, and future. If you think you could improve at this, try creating ideal customer profiles. That way, you get to understand the different types of "ideal clients" you prefer to work with—making you more sympathetic towards them and their goals.
4. Clarity
There's a seemingly constant barrage of investment information hitting clients via the news media, email, direct mail, and other online publications. The problem? Sifting through it all and deciding on well-planned solutions. That's where you, the advisor, steps in to help alleviate any confusion and give clarity—allowing your client to choose the plan that's right for them.
5. A Deeper Relationship
Granted, it isn't the easiest part of the job, but diving deeper into your client's lives and financial situations can pay huge dividends for your business. By taking your client relationships deeper, they'll gain a new respect for you by understanding what's important to them, is important to you. What's going on in their lives, do they have any new grandchildren? Are they trying to plan their dream vacation? What about their annual family reunion?
Listening to and learning more about your clients is a key ingredient to a better, more understanding relationship. We talk more about this, and the useful "FORD" tool to help you remain conscious of your client engagement goals, in this blog post.
6. Frequent Communication
Many advisors fail to communicate regularly with their clients through email newsletters. Not to mention, a study from Nielsen Norman Group found that 90% of people want to receive updates via email from businesses. This communication gap shouldn't go unnoticed. Like any other human relationship, the key to making it stronger is through frequent communication.
Don't be afraid to constantly be within reach of your clients. Sending email newsletters, birthday cards, setting review meetings, and even calling them to get life updates are all great ways to keep your business in mind. In the simplest terms, be proactive, not reactive.
7. Safety, With Good Returns
A 2017 Natixis survey of individual investors in the United States found that "despite high hopes for returns, [clients] say they want safety over investment performance". In the survey, investors said they still define risk as a loss of assets, instead of missing out on an opportunity.
It's important to understand your client, and what their risk-taking behaviors are like. It's your duty to make sure your clients understand all risks and opportunities involved and help reconcile their conflicts, so they can work towards achieving their ultimate goals.
8. Discuss Charitable and Philanthropic Goals
More and more, clients look to include charitable and philanthropic goals in their overall retirement strategy. The Natixis survey also found that 71% of clients think it's important to make a positive social impact through their investments and donations.
Along with doing well financially, clients today also want to do good with their finances. Strive for a more holistic view of your client portfolios, to help balance all their desires.
9. Help with Tax Issues
Are you seeing a pattern here? Your clients are pushing for a more holistic advisor, not just someone who can help with a life insurance policy or annuity product. They need holistic help, from holistic advisors.
More than ever, clients are looking for help with taxes – whether it be tax-efficient investing strategies, or simply help and advice with filing returns.
10. Solve Problems
A no-brainer, right? But, it's the most important one of all. Regardless of what your clients need help with, the more problems you can solve for them, the more trusted your expertise becomes. It really comes down to providing exemplary customer service for your clientele.
Remember, most people don't want a sales pitch or a product-push. What they do want is a holistic advisor that can assist them with honesty and integrity – someone who is there at the ready to make their dreams a reality, all while quashing their biggest fears.